Posted on 2018-07-23 in
Games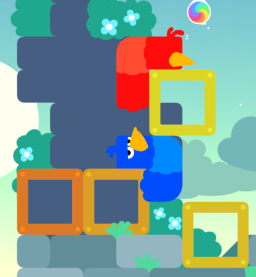 A couple of months ago I finally had to admit I wasn't smart enough to solve a few of the levels in Snakebird, a puzzle game. The only way to salvage some pride was to write a solver, and pretend that writing a program to do the solving is basically as good as having solved the problem myself. The C++ code for the resulting program is on Github. Most of what's discussed in the post is implemented in search.h and compress.h. This post deals mainly with optimizing a breadth-first search that's estimated to use 50-100GB of memory to run on a memory budget of 4GB.
There will be a follow up post that deals with the specifics of the game. For this post, all you need to know is that that I could not see any good alternatives to the brute force approach, since none of the usual tricks worked. There are a lot of states since there are multiple movable or pushable objects, and the shape of some of them matters and changes during the game. There were no viable conservative heuristics for algorithms like A* to narrow down the search space. The search graph was directed and implicit, so searching both forward and backward simultaneously was not possible. And a single move could cause the state to change in a lot of unrelated ways, so nothing like Zobrist hashing was going to be viable.
A back of the envelope calculation suggested that the biggest puzzle was going to have on the order of 10 billion states after eliminating all symmetries. Even after packing the state representation as tightly as possible, the state size was on the order of 8-10 bytes depending on the puzzle. 100GB of memory would be trivial at work, but this was my home machine with 16GB of RAM. And since Chrome needs 12GB of that, my actual memory budget was more like 4GB. Anything in excess of that would have to go to disk (the spinning rust kind).
... Continue reading ...